About Thanos card games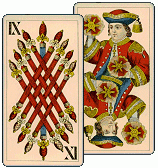 Welcome !

The games included in this site are -and will remain- 100% freeware. They feature improved AI routines and premium graphics (smooth animation, real decks). As far as I know, at the time I created these games (early '00's) there were no other freeware card games with such screenplays. There are no advertisements, no catch, just freeware games for you to play with.

The minimum required system configuration is a Pentium 200 MHz with 800x600 resolution and million of colors running MS Windows (this actually describes very old machines, even dated back to 2002).
Note for old Windows users only (e.g. Win 95/98/2000): it is required to have installed DirectX v.7.0 or higher. If you have old Windows (95/98/2000) and you haven't installed DirectX you can download it freely from Microsoft.
The latest versions of the games are compatible with Windows 10, Windows 8, Windows 7, Windows Vista, Windows XP and older.
Some of the games (e.g. those in which you give commands with your voice) will additionally require SAPI 5.1 or higher installed (SAPI is a driver library for speech-to-text and text-to-speech functions, developed by Microsoft). You can also download freely and install SAPI 5.1 from Microsoft. Check the respective game's page for the requirements.
All the games, since they are available by these software repositories, they are tested and free from any viruses, trojans, spyware, adware, etc. The size for each individual game file is about 4 Mb. When the download is completed, extract the zipped file in a folder and run the Setup.exe file to install the game. Follow the instructions and select/enter a unique target directory for each game to be installed.
Before beginning to play, make sure you have studied the game interface instructions in the game opening screen, since some games don't feature online help (sounds weird, but after playing a bit, you'll realize it's not needed). The game interface has been designed to be -as the games themselves- very minimal. Simple, easy to memorize and rapidly learned. You mostly play with left and right clicks, with shift-left and shift-right clicks being also available in some games, and few (very few) keyboard shortcuts to memorize according to the needs (e.g. key 'P' is the pause key, etc.). You exit instantly by pressing ESC (no queries or confirmations), and you may optionally run full screen (feature recommended only for Windows XP/Windows Vista). A clock is also reminding you that time is valuable (to play games for too long, that is).

The games should run without problems in Windows 95, NT, 2000, XP, Vista, Win 7, Win 8 and Win 10.  If you encounter problems during installation, make sure you consult the FAQ section first.
---- Proudly carrying the software.informer badge ----